Standardizing compliance processes in multiple facilities while ensuring that the staff adapts to ever-changing regulations and policies remains a challenge for many ASC management companies and hospital systems. The outdated standard of pen-and-paper logging is proving to be cumbersome and difficult to manage. At Surglogs, we have adapted our regulatory compliance software to the needs of large ASC's and hospital networks.
The big unknown in a pile of binders
While using the pen-and-paper method seems to be an easy way to keep records for your facility, you don't have oversight of how compliance tasks are handled in each facility. We have a large number of users who can testify that digitizing compliance is even easier than filling out sheets and storing them in binders.
Surglogs allows each facility to customize their logs to mirror paper sheets in order to make adoption of the new software much easier. Thanks to notifications, reminders, and reporting dashboards, it's easy to find any errors and ensure that all issues are addressed in real-time.
What can you track in reporting dashboards?

Activity monitor for Surgical Logs allows you to have a bird's-eye view of all log activities across your facility ranging from general accreditation, life and fire safety checks, infection control, staff checks including staff meetings, biomedical checks and much more.
Employee activity monitor allows you to stay up to date with employee's duties and activities from anywhere in the world.
Medications and supplies dashboard shows a full overview of all medications and supplies in your facility, including crash carts, anesthesia carts, malignant hyperthermia kits, etc.
The compliance calculations reporting section allows you to live-track your facility's compliance status and address any issues in real-time
The narcotic logbook history makes it easy to track all controlled substance transactions, including am/pm counts, signing in/out of the cabinets, administering, , wasting of medication along with digital signature capture.
Temperature and humidity reporting allows you to have a full overview of all temperature and humidity indicators across your facility and address the issues in real-time.
A quick survey is the best survey
Surveys can take days and every error raises suspicion. Digitizing compliance allows your staff to prepare for a stress-free survey. Since all data is centralized and stored digitally, you can oversee the compliance status of each facility at any time. The staff can easily create reports and retrieve any data the surveyor is interested in. Both preparation for the survey and the survey itself are more time-efficient and less stressful.
Turn-key solution no matter the accreditation agency
What data should your facility be tracking? We decided to make it easier for facilities to adopt a new software solution by digitizing all mandated logs for every major accreditation agency, including AAAASF, AAAHC, The Joint Commission, CMS, CLIA, and more.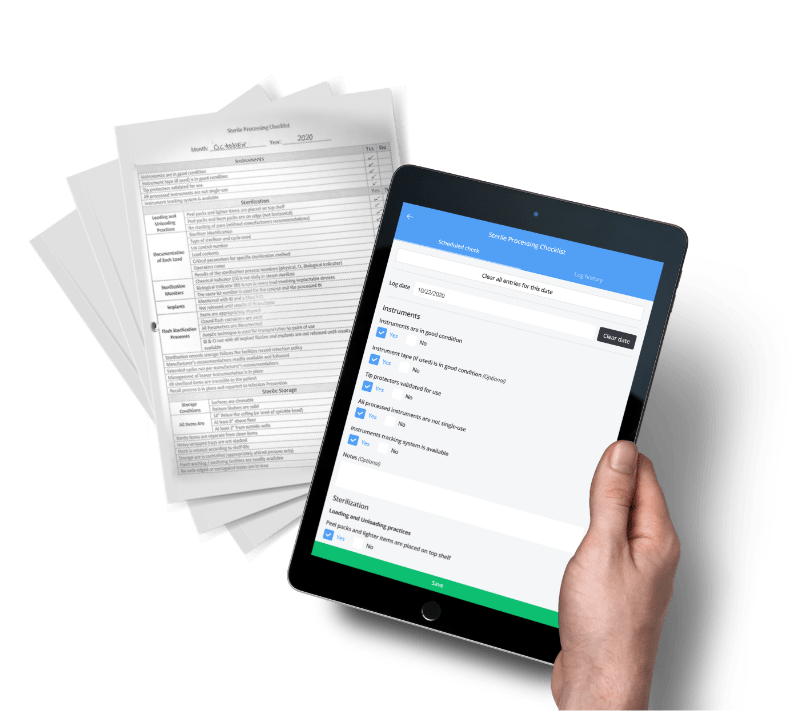 All those ever-changing regulations and policies
We understand that changing regulations are a huge stress factor for many administrators and compliance officers. Instead of creating new paper forms for every change and distributing it to their staff, they can simply add new fields in the Surglogs app. This way the regulatory changes can be less painful and much more flexible.
If all of your facilities use Surglogs, you can check at any time if each facility's logs comply with the latest regulations and policies.
HIPAA compliance and security
All businesses battle with security threats. However, no industry needs to keep the data safer than healthcare. At Surglogs, we employ the highest standards for the security of our systems. Our software runs on Amazon Web Services (AWS) cloud. It has passed HIPAA security risk analysis and is officially designated as HIPAA compliant. Not only is the data encrypted, but also we perform periodic penetration tests on all our instances including our mobile applications. The systems are continuously monitored by antivirus systems from various vendors..
Seamless onboarding and staff adoption
Staff at ASCs and hospitals are usually extremely busy and don't have much time to learn how to use new software. Our customer care team makes it easy for them. We digitize all logs at each facility into customizable templates and walk staff through our easy-to-use software. Our customer care is always available to provide unlimited, complimentary support.
Join some of healthcare's leading companies in the hospital and ASC space!