Welcome to Surglogs' latest product update! As the summer season heats up, we are excited to share some sizzling ?new features that have been added to our platform.
In this edition, we'll be diving into the realm of user permissions and workflows, unveiling the fresh updates we have made to enhance your experience with the SurgLogs platform.
Whether you're a healthcare professional, an administrator, or a team member, these powerful additions will empower you to streamline your work processes, ensure data security, and collaborate seamlessly.
So grab a cool drink, sit back, and let's explore the exciting summer product update in the Surglogs platform!
Advanced User Permissions
First up, we've completely updated the way customers will view and access their SurgLogs account. At any healthcare facility, there are many different roles and responsibilities among the staff. Therefore, your digital solutions should provide customizations as unique as each staffer. That's what our Advanced User Permissions aims to achieve.
While previously there was simply the choice between Admin Access or User Access, there are now hundreds of different user role combinations that include new ways to separate workflows based on specific roles, such as:
DONs
Charge Nurses
Materials Managers
Facilities Managers
Infection Prevention
And many more…
You can even create a "group-level" access for a particular department and ensure that every time a new user is needed with those same permissions, it's easily assigned to them rather than needing to be created from scratch each time.
You at your center level will have the ability to control what users at your center have access to, and your users will have everything they need to do their job quickly and easily.
How it works:
When setting up a new user or group access type, you'll make a decision based on two different role requirements:
First, the System Roles controls how users interact with items that the SurgLogs development team built, such as:
Adding Users
Building new logs
Building new tables
Adding Categories
Then, the Content Permissions controls how users interact with resources that are built within the SurgLogs platform like logs, tables, and documents. Here, you'll be able to update permissions based on what you'd like them to do in the system, such as:
Adding Entries
Editing Entries
Removing Entries
Editing Logs
In the video below, our Product Marketing Manager John Castro, will run through a few use-cases with to see how these Advanced User Permissions can be used for any facility need:
Note: For current Surglogs customers, we have already done the heavy lifting for you. Your permissions will not change from what they currently are, as we will run an automated matching system.
Follow-Up Tables
In addition to improved user permissions, we've also created a simple yet extremely effective update to facility workflow management.
Whereas previously upon submitting a new entry in SurgLogs, that's where the action ended, you can now require a further action with Follow-Up Tables. This feature allows users to create a workflow around entries – when one entry is submitted, other entries can be required within a certain period of time.
For example, if you have audits that are being completed by your staff members, upon submitting that audit, you can automatically add the step for a Corrective Action Plan (CAP) 14 days after an audit is submitted. You can even assign the CAP to staff members based on their new Advanced User Permissions!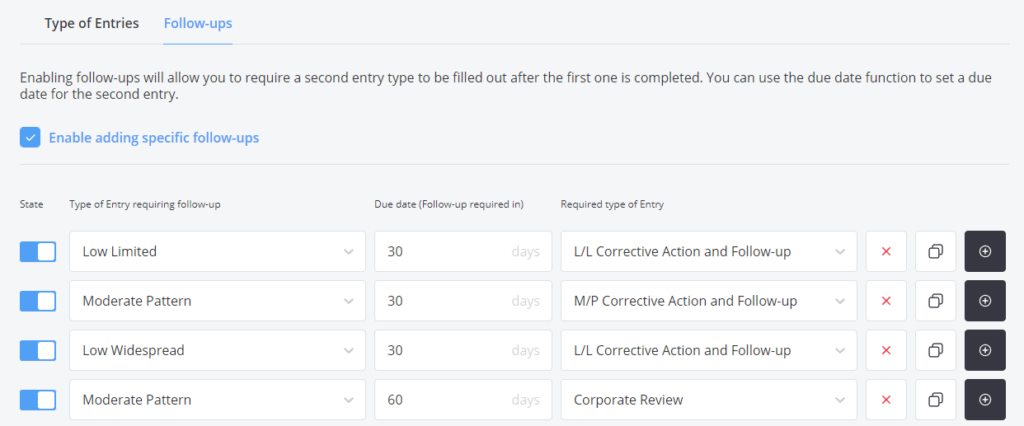 Some other use-cases include:
Call-Back Logs
Survey Management
Incident Reporting
And more!
Have additional questions about how you can use these features to help improve efficiency at your healthcare facility? Get in touch with our Customer Care team any time for a more detailed demonstration or help setting up a unique use-case you may require.