What's better than helping patients? Helping more patients.
You've likely thought through this scenario. As a healthcare leader, you are looking for ways to scale your business. You may ask yourself: how can I increase our output without a substantial increase in resources, or sacrificing patient quality?
That's where healthtech comes in. It helps ease healthcare operations through automation, so that specialists are able to do more, faster.
Still, many healthcare facilities, even large-scale, regional or nationwide practices, don't implement technology because they either don't know what's available to them, or lack the resources to deploy.
In this article, we'll uncover the three factors that ensure an effective healthtech roll-out to achieve scalability. For the example here, the healthtech we'll be implementing is Surglogs for Enterprise, a regulatory compliance software for ASCs, hospitals, long-term care facilities, or healthcare centers of any kind.
The Three S's of Healthtech Scalability
1. Strategic Approach:
While "Everything, Everywhere, All At Once" is on the mouths of everyone after their sweep at the Oscars, that isn't how you need to approach rolling out technology across your healthcare enterprise.
At Surglogs, we rely on a tried-and-true four-phase approach to technology rollout. Starting with one center as a pilot, our implementation team works out how Surglogs will best be used for this type of healthcare setting. We create log templates, workflows, and dashboards that align with the center's mission. Then, we train the team and have them put the processes to use. Once we work out the inevitable kinks and find the ideal program for that center, we are ready to roll-out to the next phase. In phase 2, we duplicate that program to multiple centers (think 15-25 to start). This will take a bit longer, with plenty of training along the way.
Finally, after a one-month pilot test, and more and more centers onboarding each day, we're ready to take this across the enterprise. That's when we enter the 3rd and 4th phases, where all centers appoint and train an admin, who then is responsible for the successful onboarding of their center. With the initial legwork already completed, this relieves much of the stress of the individual centers and gives them a prime example to work towards, rather than starting from scratch.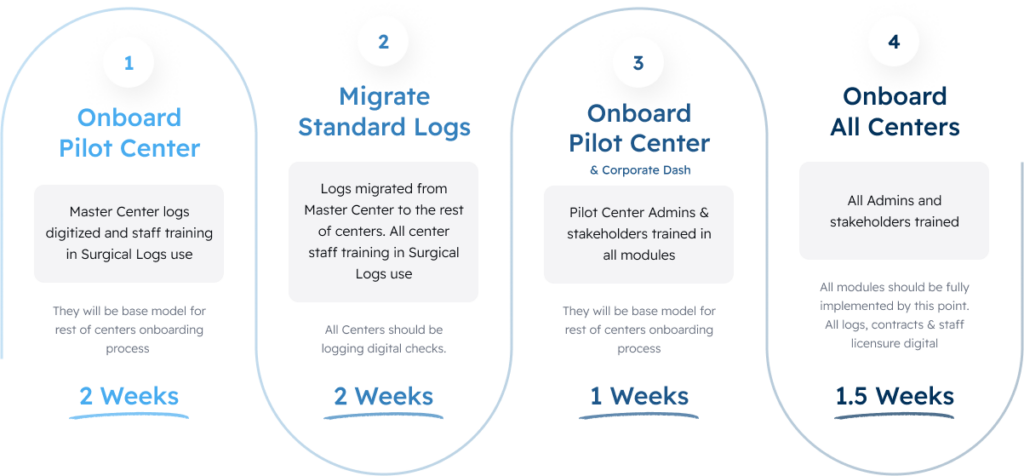 So while it may seem daunting at first, a strategic, phased-out approach, monitored carefully by a success-driven implementation team, can work, and without too much heavy lifting for your staff.
2. Standardization Across the Enterprise:
Operating a business at an enterprise level has its upsides and downsides. Again, managing multiple healthcare centers is a large undertaking, but completely worth it if it means you're helping more patients in more areas.
However, to be an effective corporate entity supporting those individual healthcare centers, standardization is key. If everyone is marching together, using the same processes, your life at a corporate level gets much easier.
This is the main goal of healthtech for an enterprise. Provide a standard process and unified view so that everyone is speaking the same language.
As one of our clients more eloquently said…
"It's allowed us to have continuity from one center to another. It allows them to organize their data in the same way, so regardless of where they're doing an accreditation survey, the information is organized the same and it's easily accessible with the Surglogs platform. And it takes away a lot of the paperwork." – Rhonda J Kurz, RN, Regional Director of ASC Operations
3. Support Along the Way:
Lastly, while implementation is one hurdle, getting your team to adopt new technology comes with new questions and blind spots. That's where a strong customer success team comes in.
Your healthtech vendor should act as an extension of your team. You shouldn't be waiting around over a week for answers. Create a Service Level Agreement (SLA) with your vendor to ensure you're promised responses to questions, new tech requests, and other business needs within a reasonable time frame.
Surglogs is the market leader for outstanding customer success that goes above and beyond to ensure the satisfaction of their clients. The team consists of highly skilled professionals who have real-world clinical experience. And an added bonus – they have a best-in-class response time.
As Brandon Combs, Surglogs' VP of Business Development puts it, "We've overseen onboarding for over 35 corporate partners, completely top-down implementation with several. This isn't our first rodeo. This is nothing new for us, we've perfected it."
How Regulatory Compliance Software Can Help

Does this image look familiar?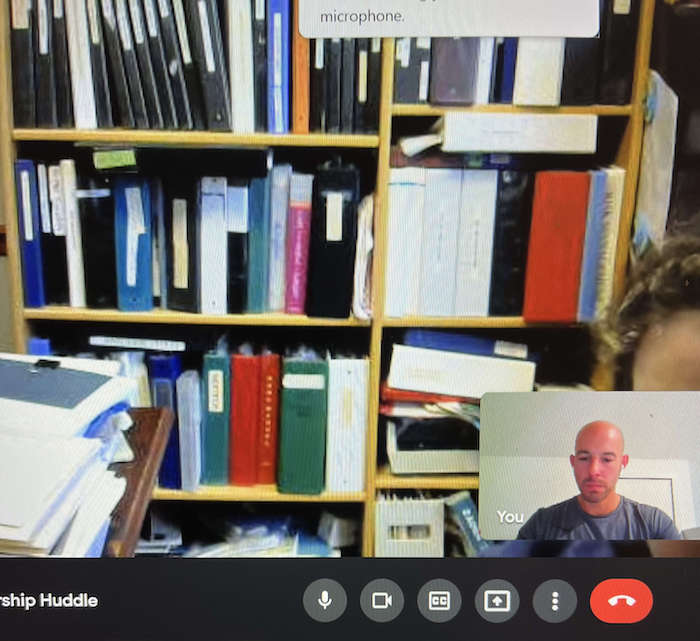 It's more than just a distracting Zoom background. A bookcase of 100+ binders filled with paperwork is a headache for so many reasons. When it comes to regulatory compliance, nothing about the pen-and-paper method is easy, and certainly, not scalable across hundreds of centers.
The client who sent us this picture, Todd Alvertx, Vice President, Ambulatory Surgery Centers, also added, "As we started looking at scaling this business, and worried about things like compliance and surveys, having some kind of a central system where everyone is doing things the same way. Being able to view it on a high-level basis was key and will continue to be for our growth and success."
At Surglogs, we created a turn-key solution that would seamlessly plug into your day-to-day operations. Our healthtech saves you time, money, and reduces stress. All with the aim to help you focus on scaling your enterprise, and delivering better health to more patients.