The COVID-19 pandemic has affected healthcare facilities across the nation. Almost every facility experienced disruptions to its health services and supply chain. To increase the patients' safety and restore daily operations, healthcare facilities have had to address the new demanding list of regulations.
The new regulations cover a variety of areas:
ensuring increased patient safety
stricter infection control
adjusting the existing protocols due to the COVID-19 pandemic.
For administrators, nurses, and other clinical staff, the new regulations would mean more paperwork, which would add more burdensome tasks on their calendar, shifting their focus from patient care.
The traditional pen-and-paper method is highly ineffective for documenting the tasks associated with the new regulations. It consumes a significant amount of labor hours and money. Paper logs can get easily disorganized and even lost. Moreover, paper documentation takes up valuable storage space.
At Surglogs, we were quick to respond to the changing regulations and needs of our current and prospective clients. Our priority is to provide the best digital solutions to healthcare facilities, so we have created a variety of tools to aid them. Our tools remove the burden of new paperwork for the facility's staff so they can continue to focus on providing exceptional healthcare, even during a pandemic. Our clients immediately adopted the new tools in their facilities.
Here are some examples of the digital solutions that we have offered to healthcare facilities:
Visitor Assessment Log
To ensure the safety of its patients and staff, all healthcare facilities are required to have a COVID-19 screening for each employee and rep that enters the building. Every screening needs to be documented for compliance purposes. The visitor screening consists of multiple questions: a person's body temperature, COVID-19 symptoms, if a person had contact with anyone who had COVID-19 or COVID-like symptoms, etc. Monitoring the answers is crucial for the safety of other staff members and patients.
Thanks to Surglogs, facilities can navigate the screening process quickly and seamlessly, and all records are stored and organized in a HIPAA-compliant cloud right from the start.
The compliance percentage is calculated automatically in real-time, allowing administrators and surveyors to see how compliant their facilities are with following the necessary steps for preventing the spread of COVID-19.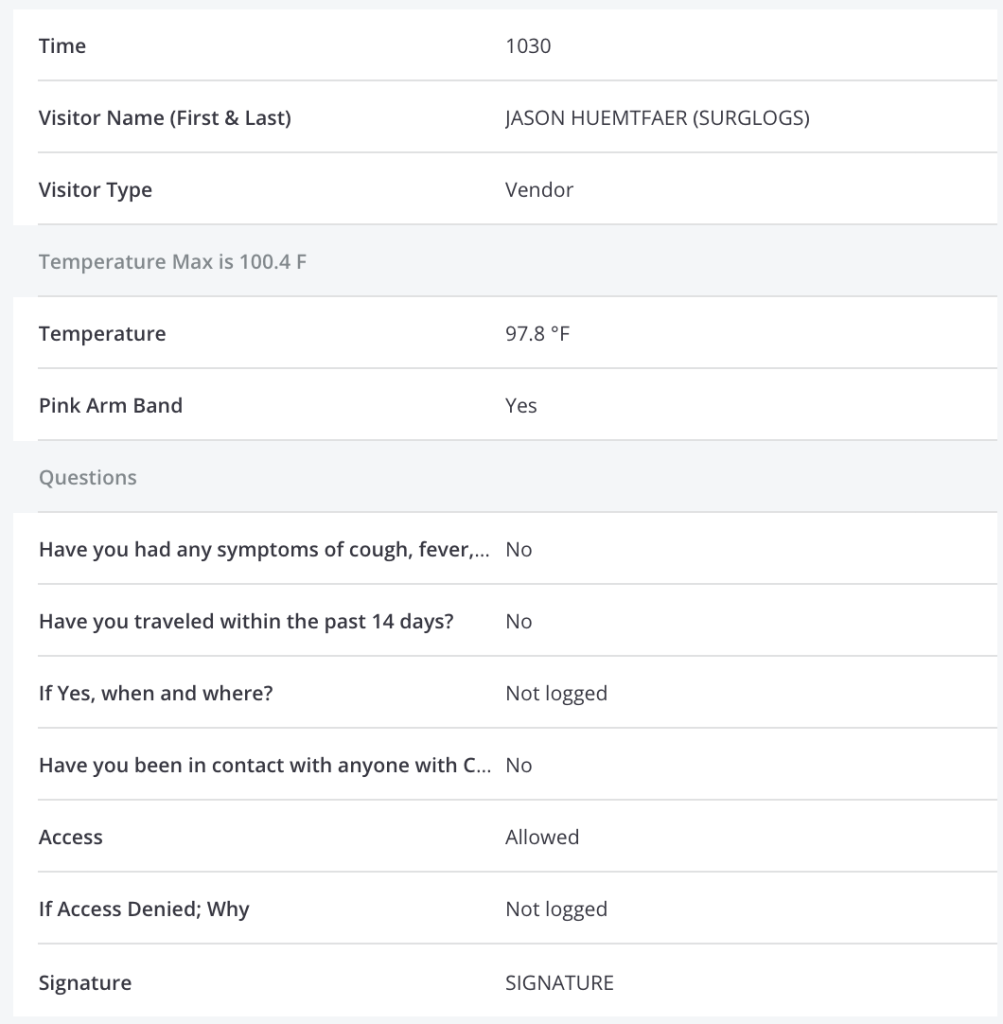 N95 Reprocessing Log
At the beginning of the pandemic, the entire healthcare system was facing a critical shortage of certain medical supplies and personal protective equipment. The staff was required to use the resources wisely.
Surglogs came up with the solution to help its hospital clients with the reprocessing of Filtering Facepiece Respirators (eg. N95). Surglogs created a digital log for tracking reprocessing data for each respirator:
– how many times that respirator had already been reprocessed
– was the respirator refused by the SPD
– the reason the respirator was refused
This data provided powerful insights, which allowed facilities to adjust certain processes related to respirator usage.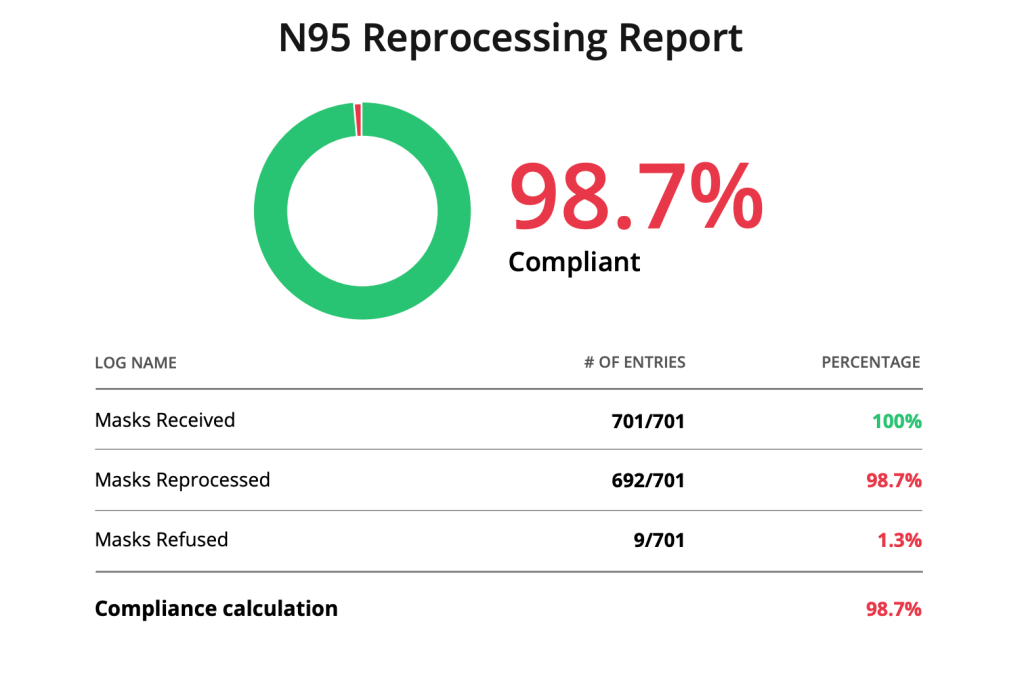 ASC Reopening Checklist
Once the ambulatory surgery centers were allowed to resume in-person care of non-COVID-19 patients, Surglogs prepared a digital ASC reopening checklist. The checklist covered a variety of areas, such as:
administration
infection prevention
life and fire safety
sterilization
pharmacy and more.
This digital checklist allowed ASCs to identify key elements for resuming their operations and to ensure they stay compliant with all necessary regulations.
You and your facility can also benefit from Surglogs' regulatory compliance suite.